So this was supposed to be staycation weekend '09 for me. I took off work Friday and Monday and figured I'd have a nice little break from the rat race. Naturally, I get sick on Wednesday and am bed ridden until Saturday. So no tourney drinking friday night pub fest, no saturday drinking fests, no clothes shopping, very little cleaning but at least I had tv and caught up on the greatness that is East Bound and Down and various movies that came out last year.
By Saturday and the endless tournament, tv and hockey viewing caught up with me and I figured I should get a little air and a cocktail or two with White Boy and B.I.G. Turns out some jackass steals my phone and decides to update my FACEBOOK STATUS at 5:48 am as well as buy such vital things like Tetris. I'm okay with buying the games but touching my facebook status is on the equivalent of deflowering my yet to be born daughter. You just don't do it if you want to live. This reminds me of the seinfeld episode where Jerry's car gets stolen and he calls the phone in the car with the guy answering.
FML
.
Anyway on to some sports related matters:
NCAA
:
Normally I wouldn't give two shits about basketball but this tourney has been solid. Sure there have been a lot of stinkers but that Pitt/Nova game was intense. It's good to know that Pitt choked in the Elite 8 as opposed to the Sweet 16. Up was down, black was white, good was bad, day was night, etc. At least things are somewhat normal again. I was getting scared.
I'm glad that this year's version of UNC is a lot less of Tyler Doucheborough and more of the Lawson. It's good that someone with actual talent is being discussed as opposed to the try hard bumpkin who will likely be in Europe in 4 years.
Also I agree with White Boy. We need more Gus Johnson. Only he can orgasm on a two point layup 1 minute into a game. If only, blogger had some like function cuz I'd be giving my thumbs up.
I'm also glad I haven't seen Dick Vitale anywhere either. Awesome baby went to golf mode when his little Dukies got Villanova'd.
Also props to YOUR BOSTON UNIVERSITY TERRIERS!!!!!!! who just jobbed New Hampshire
2-1 with 14 seconds left on a goal by Joey Lawrence's younger brother.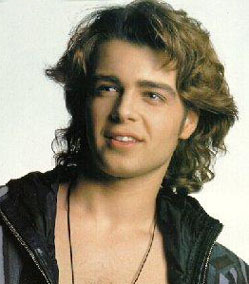 whoa!
NHL
First a cool little segment on the Blues, TJ Oshie. Who? I didn't know who he was until two weeks when I updated my NHL'09 rosters but things like this are awesome. Again, why aren't clips like this out there more? And how did a diehard NHL fan like myself equipped with center ice and the internet not know who this guy is?
awesome. Also this
quip
:
"When I play NHL '09, I play as the Blues and my guy is just terrible," Oshie said, laughing. "I feel embarrassed when he's out there. He's slow, every time he gets touched he falls down."
Dude TJ, don't sweat it man just rock the edit a player function and you'll see more of this:
Sticking with the west, we had an old fashion line brawl last night between the Hawks and Canucks.
Point of interest includes, Ben Eager bodyslamming another man and Vancouver super pest, Alex Burrows HAIR PULLING. Look we've seen some pathetic fighting displays with Crosby, Semin but this might be the worst. What is this middle school? And hair pulling? Really? As of now, the Canucks are tied with Chicago for the 4th spot. PLEASE meet in the first round. It's good to have a series with some intensity.
Can we just start the playoffs already? If I were one of the top 3 in the east (Boston, NJ, Wash), I'd be scared of playing either the Rags, Penguins or Hurricanes. All three teams along with Philly are playing the best hockey in the conference right now. The Devils have looked like crap against the Hurricanes and should be praying for a shot at the Penguins or the Rangers. But really, if you were a devil fan, would you want to play either? Not bloody likely.
Let me go on record to say I have no beef with Avery and I sort of enjoyed him tormenting Fatso last year, as a Devil hater.
The tri state area would love for it to happen this year versus a much more deeper Devil team and a rested Fatso. The teams play tonight on Versus (CHANNEL 122 ON TIME WARNER CABLE) as the Rangers will attempt to extend their record against the Devils to 12-2-3 with Avery. Bring it.
Finally, listen to former, Sportscenter anchor, Jack Edwards. Going all Count Dracula over this hit by Bruin, Milan Douchic.
It's good to know Edwards is well on his way to nice little room with 4 white walls and a straight jacket. Creepy stuff.
We got a two week sprint to the playoffs and things are absolutely intense right now. It's the most wonderful time of the year.