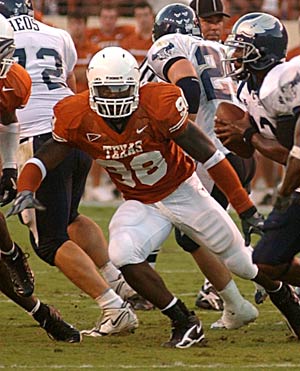 As we now go into the defensive prospects of the draft, it's pretty hard to classify each player into a specific category. Not all 4-3 defenses are the same and not all 3-4 defenses are the same. That being said I'm grouped the following players into 2 distinct buckets. In some of these cases, the 4-3 guy might be a 3-4 OLB as a 3-4 DE might be a 4-3 DT. The versatility of players is definitely the main take away point from these players. Some players like Tyson Jackson have value in all the ways they can be lined up and teams might find him useful for any scheme.
There is also an upward trend of teams switching to the 3-4 defense. Teams now include the Broncos, Chiefs, Packers among the Steelers, Cardinals, Pats, Rats, Jets, 49ers, Cowboys, Chargers, etc.
4-3 DEs
1) Brian Orakpo / Texas / 1st
2) Everette Brown / Florida State /1st
3) Aaron Maybin / Penn State / 1st
4) Robert Ayers / Tennessee / 1st
5) Tyson Jackson / LSU / 1st
6) Micheal Johnson / Georgia Tech / 1st -2nd
7) Larry English / Northern Illinois / 1st -2nd
8) Connor Barwin / Cincinnati / 2nd
9) Paul Kruger / Utah / 2nd – 3rd
10) Lawrence Sidbury / Richmond / 2nd – 3rd
11) David Veikune / Hawaii / 3rd
12) Derek Walker / Illinois / 4th
Overall in 4-3 land, Orakpo is a stud. While there is some question if he can play the run better, he is one of the elite pass rushers in the draft. Moreover, he is outstanding in space and has 3-4 OLB potential. The same can be said about Brown and Maybin. Both have shown they have the pass rush skills but there are some questions on how they will handle themselves in the run game for 4-3 teams. The best true 4-3 DE and gaining rapid traction on the boards is Robert Ayers who had a dominant senior bowl and combine. He has been routinely walking various draft class offensive linemen into the backfield. I wouldn't be suprised to see all 4 DEs go by pick 15. Ayers might even be the second DE taken. In the 4-3, Tyson Jackson offers little rushing the passer but is the best run defender at the end position. Problem is he a natural fit for the 3-4 and will likely be taken by the Chargers at pick 16. Johnson was a sure fire top 5 pick based on measurables and the previous 07 season but flamed out last year. Still he has the measurables that make him very tempting to teams in the 20s. Barwin and English fall into hybrids again. Both have risen up draft boards due to solid combines. Barwin even got some work in during the season at TE. He would be an ideal replacement for Mike Vrabel in Patsy land.
3-4 DEs
1) Tyson Jackson / LSU / 1st
2) Jarron Gilbert / San Jose State / 1st – 2nd
3) Evander "Ziggy" Hood / Missouri / 1st – 2nd
4) Fili Moala / USC / 2nd
5) Mitch King / Iowa / 3rd
6) Alex Magee / Purdue / 3rd
7) Sammie Lee Hill / Stillman / 3rd -4th
8) Terrance Knighton / Temple / 4th – 5th
9) Ricky Jean-Francois / Florida / 4th – 5th
10) Kyle Moore / USC / 4th – 5th
As stated above, Jackson is the best fit for a 3-4. Don't ever expect 7-8 sacks a season but do expect great run defense and 2 gap responsibilities. Gilbert and Hood both can play 4-3 DT and also have risen up boards. Moala is a talented player whose skillset didn't translate well on the field. Ricky Jean Francois has been in a big time player for Florida and has been dominate during the big stage / National championship games. He has injury history but is relentless and fits the 3-4 mold.