Pittsburgh Steelers
Additions: Rashard Mendenhall, Justin Hartwig, Limas Sweed, Mewelde Moore
Subtractions: Alan Faneca, Clark Haggans, Cedrick Wilson, Najeh Davenport
The Steelers are the favorites again this year for obvious reasons. They return much of the same crew that saw them win the AFC North at 10-6 last year with some noticeable upgrades in some areas specifically in the skill positions on the offensive side of the ball. Mewelde Moore actually gives them a pass catching runner option who is going to be deadly on the 3rd downs out of the backfield. Mendenhall and Sweed will bolster an already formidable offense down the ride with Mendenhall to see some significant action this year provided he learns how to learn on to the football.
The Steelers are poised to reach new heights offensively and alter the notion that this run, run, run team and become a top 3 offense in the AFC. The only thing holding this team back from another deep playoff run is the horrendous offensive line. Faneca's departure is about as overrated as they come as young buck Chris Kemoeatu takes over. Kemo is a beast and will make people forget about crybaby Alan. C Sean Mahan in his horrendousness was recently traded for Devo's 3rd grade backpack as FA C Justin Hartwig will take over. Don't get me wrong, Hartwig too is average but at least is a bit bigger and can hold the point against bigger NT's that the AFC seem to have an abundance of. The Right side of the line might be the worst in football with the horrendous Kendoll Simmons and equally horrendous Willie the Colon take turns allowing unneeded pressure on Roth. However, both have played decently in stretches and will need to find their game for this offense to be great.
Sad to say this might be the year that the age catches up to the key players. Both offensively and defensively the Steelers employ guys long in the tooth and the current administration deems the young guys not ready because "they don't know the playbook". As a result, themes exposed by Jacksonville and New England and lack of speed overall with hurt the once mighty Stillers especially on defense.
The Defensive line depth is a major concern as all 3 starters and 3 backups are all over 30. Injuries exposed this unit last year and age may expose them this year. Not to mention Casey Hampton and his ever expanding girth who has now been morphed from the best NT in football to now a mere clogger in the same vein as Ted Washington, Sam Adams. Whether this means run stuffer or artery clogger remains to be seen.
The linebackers got a jolt of energy with 2nd year men Lawrence Timmons and Lamar Woodley getting some much needed snaps. These two will be dynamic in this defense and provide noticeable upgrades when on the field. James Farrior in the middle is still solid and James Harrison is coming off a pro bowl year. Look out because this could be fun to watch.
The secondary isn't nearly as poor as ESPN would have you believe. The zone blitzing defense tries to prevent the big play so a ton of soft zone coverage is there. With Tomlin taking more control of this team, we can expect less softness and more cover-2.
The 2005 Superbowl team was the end of an era. This new Steeler team that is slowly retooling to go on another championship run. Is this the year for them? Nope but they'll be around and with BRoth have a chance to win this division for the next 10+ years.
Projected record: 10-6
Cleveland Browns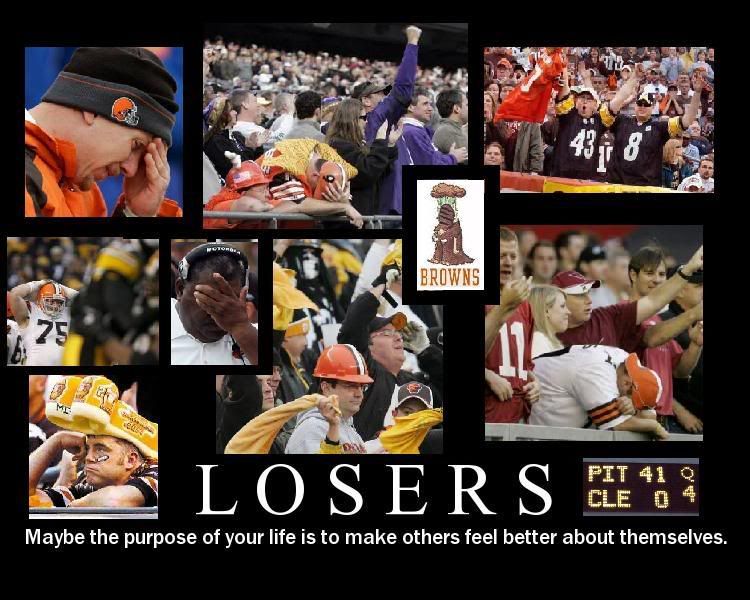 Additions: Shaun Rogers, Corey Williams, Donte Stallworth, Travis Daniels
Subtractions: Leigh Bodden, Gary Baxter
The Browns are everyone's Cinderella story to come out of the North just for the simple fact they spent money in the off-season. Whoop-dee-do.
The offense is among one of the leagues best with a number of options and a variety of ways to score on you. Derek Anderson broke out and is among one of the leagues best but as the season progressed, teams begin to keep Anderson bottled up through various blitzing. Anderson has a quick release but had horrendous mechanics once he has heads in his kitchen. Teams caught on and the book was out on him. Regardless, Anderson must prove that last year was not a fluke and will not be surprised by anyone in the league anymore.
The Browns saw Jamal Lewis rejuvenate himself last season as he returned to the hard running, try hard sort of guy perfect for this offense. Backing him up are Jason Wright and Jerome Harrison who offer next to nothing in terms of potential starters but are adequate subs.
The strength of this offense is it's passing game. Cleveland added speedster Donte Staalworth to add some much need speed to the receiving corps. Braylon Edwards took his game to the next level and Joe Jurevicius and Travis Wilson offer some depth on the back end. Cleveland needs to utilize these guys to truly become a dominant offense. Kellen Winslow is a superstar at the tight end level and is weapon 1A in this offense.
The Brownie O-Line is more suited to pass blocking than run blocking but are very talented. Joe Thomas has perfect footwork for a linemen but has struggled in the run blocking area. Steinbach is much the same but picks off linebackers like the best of them. The Browns got great years out of Hank Fraley and Rex Tucker but they might come back down to earth. Kevin Schaeffer is a above average RT with above average run block skills. Add Tackle Eligible Steve Heiden and the Browns do have the best line in the division.
While Crennel and Phil Savage were conjuring up run stuffing abilities, they overlooked the fact that there are no corners on this roster that would be anything more than #4 corners on other teams in the division.
Eric Wright is the best of the bunch and has the skillset to be a star but struggled mightly in his rookie season and will be matched up again the best receivers. Brandon McDonald is #2 but really who the heck is here and he too will get torched. Terry Cousin was a nickel back in Madden 2001 and he still is only 8 years older and slower. Travis Daniels and AJ Davis provide youth and upside in Dime and Quarter situations but really are nothing to write home about yet.
Safeties Sean Jones and Brodney Pool are good and will have to be to help keep other teams from scoring 40 on them every night.
That being said, the front seven of Cleveland is very good. The DL should be top notch by mid season and the linebackers are great. Kamerion Wimbley is one of the league's elite pass rushers and D'Qwell Jackson and Andra Davis are solid playmakers in the middle. Old bastard Willie McGinest continues to play but will likely be spelled by Antwan Peek on 3rd downs.
Rogers finally gives them a NT in the 3-4 but he has never played the role. Ditto Corey Williams who was a pass rusher for the Packers and whether his run-stuffing abilities are up to snuff is another question mark. Granted, Williams has the skillset to rock out in 3-4 end mode the issue is how long will he take to grow into this role. Moreover, will he be able to take the 30+ snaps a game as opposed to coming in on 15+ snaps for the Packers last year.
Whether Cleveland will become the first team to win a championship by spending boatloads remains to be seen – they still have enough talent to come out of the AFC North despite a tough schedule. Unfortunately, they are still another good off-season away. The book will be out on Derek Andersen soon enough and every DC in the AFC will get in line for that.
Projected Record: 7-9
Cincinnati Bengals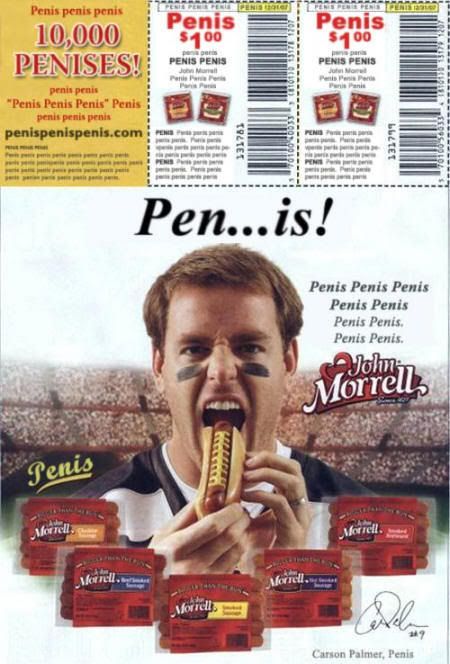 Additions: Keith Rivers, Antwan Odom, Ben Utecht, Pat Sims, Jason Shirley, Chris Henry, Darryl Blackstock
Subtractions: Odell Thurman, Justin Smith, Madieu Williams, Landon Johnson, Rudi Johnson, Willie Anderson, Delta O'Neal
Once again the Bungs look to bounce back from a wildly disappointing 2007 with some new faces and same convicts.
Offensively, they are a threat to put up 30 points a game.
Carson Palmer looks the part. He throws a pretty ball and has decent mechanics the problem with him as noted by yours truly is his seemingly uncontrollable need to force plays especially when the going gets tough. Palmer is the epitome of a guy that will get you 3 when you need 7 and most importantly, he looks gun shy in the pocket and his once flawless mechanics have also taken a back seat.
Kenny Watson was solid as a fill-in last season and will need to take the next step to take the pressure of Palmer. Former first round pick, Chris Perry returns from injury to provide a nice 3rd down threat and a dangerous weapon for this offense.
The receivers are again talented as all hell. You know what you get with Doucheman and CJ. Piss Henry returns from suspension and by all means should turn his life around because this should be his last chance. Sad thing is Henry is one of the most talented receivers in the league and truly a major weapon for the Bungs 3 receiver set. Rookie Jerome Simpson will get a strong look, as will Andre Caldwell and Antonio Chatman to fill out the bottom run.
Ben Utecht signed from Indianapolis gives Palmer a true receiving TE and will likely see looks and attention doubled from what he got from the Colts. Reggie Kelly provides a solid blocker and experience to get the job done when needed.
The OL is still the best part of the team with bookends Levi Jones and Stacy Andrews all ready to man the tackle spots. If they can stay healthy than the Bengals have a good shot to keep Palmer clean and that's when he's at his best.
Defensively, they've lost some players on defense but overall should see a modicum of improvement. Pat Sims and Shirley give this team two actual run stuffers which should help the defenseline a bit more. Odom and Geathers are solid pass rushers that should combine for around 15-20 sacks. Linebackers are filled with your average set of scrubs but Ahmad Brooks and Keith Rivers are young and supremely talented.
The secondary is young and aggressive but prone to the big play. Jonathan Joseph and Leon are going to be the conference's best in a short while but go for big plays and are too aggressive. Safeties Dexter Jackson is old but still solid if you like slow, averaged speed, "secondary" coaches while Marvin White brings the wood.
Projected Record: 7-9
Baltimore Ravens
Additions: Joe Flacco, Ray Rice, Lorenzo Neal, Fabian Washington
Subtractions: Jon Ogden, Steve McNair, Musa Smith
The Rats are on the verge of rebuilding as their once mighty core is now shriveling up into mediocrity. Despite all this, the Ravens under Ozzie Newson are very strong talent evaluators who are able to quickly get infusions of youth when needed and this past off-season was no exception.
Sure Jon Ogden is gone but the Ravens have a young corp of O-Linemen that can get the job done. They aren't world beaters by any means and their tackles are inexperienced but in a couple years, they could be among the league's best again.
The QB is definite weakness with Kyle Bller and Troy Smith battling it out to a draw in suckiness, meaning young Joe Flacco will take the reigns. Running backs are still strong with the addition of Ray Rice to spell McGahee. Rice will also have less durability issues in this role and be more of a help to the team as the change of pace guy. McGahee needs to prove he can handle the load week after week and not get banged up.
The receivers are talented but one of Clayton and Williams must break out to help Derek Mason. Todd Heap is elite but needs to be healthy. Something that hasn't been the case for a while now.
Outside of that, this is still the same slow, prodding offense as years past.
Defensive however is still one of the tops of the league. Ngata is among the league's best NT with some solid flanking work by lunch pail, Kelly Gregg and a healthy Trevor Pryce.
The linebackers are still good with only Jarret Johnson being the weak link. Ray the Murderer Lewis is back and will continue to play the role of cheerleader in the same vein he has been for the last 4 years. Bart Scott and Suggs are elite. The Rats can also seemless transition between the 3-4 and 4-3 and Rex Ryan is back with the same blitz-those-motherfuckers-attack philosophy.
Last year the Rats got dicked with injuries to their corners Rolle and McCallister but since than have added ex Gayder speedster, Fabian Washington to give them some depth in that regard. They could obviously use more but as the Giants proved, you don't need world beaters for corners.
Still with any injuries to the front 7, this will be a long season for this defense. As the offense again, can't be relied on to do much. The Rats will be in full rebuilding mode by next season.
Projected Record: 4-12