wasn't done by the team but one of the players: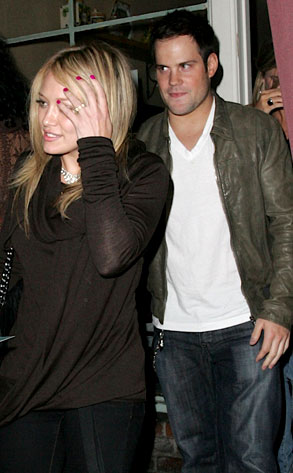 What happens when Hilary Duff leaves the house wearing a ring on her wedding finger?





She ignites a flurry of speculation that she and her boyfriend of one year, pro-hockey player Mike Comrie, are engaged to be married.

Duff's camp is not confirming or denying that Comrie popped the question...

When asked if they're engaged, a rep for the singer-actress did not comment.

Duff was spotted wearing the mystery ring on Friday night when the two hit L.A.'s Il Sole restaurant for dinner.

If it's not an engagement ring, perhaps the bauble was an early birthday present from Comrie, who is an heir to Canada's The Brick furniture empire. Last year, Comrie, 27, reportedly gave Duff a $100,000 Mercedes to celebrate her 20th. She turns 21 on Sept. 28.


When did these two start going out anyway? I mean they've been dating for a year? Whose their PR agent? Luckily, we don't hear such talk when the Isles are on TV. They are 100% focused on hockey on the island. I mean sure they fired their coach but who cares? This story will get asses into those grade A quality seats at the Nassau County Coliseum. I'm just heart broken that cougar Deb Kaufman wouldn't keep me updated on such matters.


Maybe this will get people to start talking about the Isles again and maybe just maybe Mike Comrie can be that douche who takes the mantal from Sean Avery by dating hot, famous chicks.
But honestly, Hillary Duff? Really? Eh I guess any news is good news for the Isles who are well on there for the John Tavares sweepstakes who is already being proclaimed as "The Next One." I thought that was Sidney??