I love Tony Romo. If choking was the in thing, he would be the trend setter although Carson Palmer is right there with him. Truth be told, I have no beef with the guy other than he's with Jessica Simpson and I am not but if he keeps turning the ball over like he did on Sunday, he'll be my favorite player in the league. Anyway that's the only reason I won last week so booyah.
Denver Broncos (+7.5) @ Carolina Panthers
Denver blows. They are the worst run defense in the league and Cutler isn't GAWD. I see somewhat high scoring affair with Carolina running the crap out of Denver in the second half. Entirely similar to this past Monday night game although with the short week, Denver has a shot. Carolina got Antonio Bryant'd and now must face Brandon Marshall and Eddie Royal. Lucky for them, the Broncos are starting Tatum Bell. Hopefully he doesn't steal some more luggage in Carolina. As long as he leaves my two girls alone, I'm cool.
Carolina - 35

Denver - 24
Tennessee Titans (-3.5) @ Houston Texans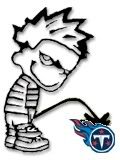 This could actually be a game. The Texicans have been tremendous over the last couple of weeks and are poised to take the next step next season. Of course, I said the same thing last season but injuries and antics from Sage Rosenfelds took some wins away. Alas, They have played much better and will look to bring it against the
Flaming Thumbtacks
.
The Tacks are still dominating in unimpressive fashion. I was watching a bit of their game last week and my god are they boring but hey they are effective. Kerry Collins has yet to have a meltdown but you know now would be a good time as any. I also think the Texans can exploit a secondary that really hasn't been tested yet.
Screw it UPSET SPECIAL.
Houston Texans - 28

Tennessee Titans - 23